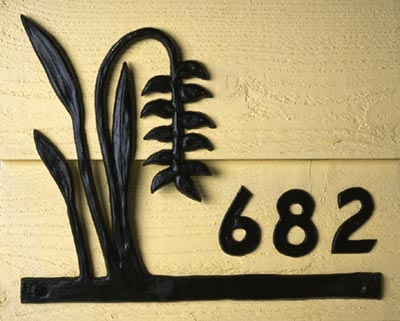 Lobster Claw Heliconia House Plaque
Sale Price: $75.00 | Contact Us To Order
*Not Actual Size* - Size is 15 & 1/2 inches wide and 9 & 3/4 inches tall.

Plaque is cast aluminum with a black semi-gloss weather tolerant finish.
Indestructable and comes with a lifetime guarantee!

The house plaques and numbers attach easily to your home with galvanized screws and anchors which are included with your order.






Home | House Plaques and Numbers | Screen Door Inserts | Contact Us


La-Ti-Da-Retro Design Inc.
224 Datura Street, Suite 1311
West Palm Beach, FL 33401
Phone: 561-832-7496
Fax: 561-832-7453
Email: info@latidaretro.com
Website: www.latidaretro.com